Mayo, Sligo and Leitrim Education and Training Board (MSLETB) have officially launched the Local Creative Youth Partnership (LCYP) programme. Mayo, Sligo and Leitrim ETB was selected along with five other ETB's across the country to develop a local creative youth partnership for this region.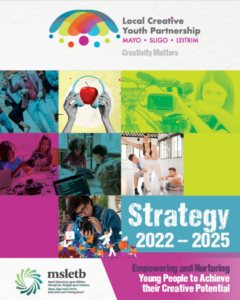 The programme was officially launched by Dr. Katie Sweeney National Director for the Integration of the Arts in Education with the release of its strategic plan for 2022-2025. The LCYP is a collaboration between Mayo, Sligo and Leitrim Education and Training Board (MSLETB) and the National Youth Council of Ireland's (NYCI) National Youth Arts Programme.
The LCYP aims to empower young people in the region to achieve their creative potential, particularly those experiencing marginalization. The LCYP will build opportunities for young people to explore, develop, and express their creativity in local communities. The LCYP's vision is to nurture and empower young people in Mayo, Sligo, and Leitrim to achieve their creative potential, by building opportunities for them to explore, develop and express their creativity.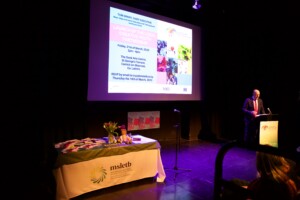 Speaking at the event, MSLETB, Chief Executive, Tom Grady said:
"We are thrilled to announce the launch of this new programme, which represents a significant step forward in our commitment to empowering individuals and communities through creativity and education. We believe that access to quality education is a fundamental right, and we are proud to be able to offer this opportunity to individuals who may have previously been unable to engage with creative processes in their lives. We look forward to seeing the positive impact that this programme will have on the lives of our learner and the communities that they are part of."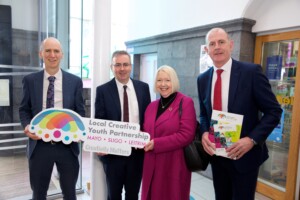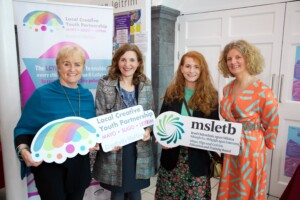 The LCYP will focus on three main actions for development and delivery between 2022-2025:
Exposure and Engagement: To increase the range of creative experiences for and with young
people aged 10-24 years, and their supporters with a particular focus on those experiencing
marginalization.
Promotion and Participation: To ensure more information and opportunities are available to
young people to participate in creative experiences and programmes.
Capacity and Collaboration: To engage with those services that work with young people to build
their confidence and capacity to use and model creative approaches in youth, community and
further education/training settings.
The LCYP is funded by Creative Ireland, the Department of Education, the Department of Tourism,
Culture, Arts, Gaeltacht, Sport, and Media, and the Department of Children, Equality, Disability,
Integration, and Youth through Hub na nÓg.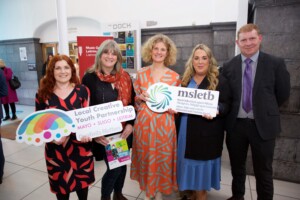 Nessa Cosgrove Creative Youth Partnership Co-Ordinator, emphasised the importance of hearing the voices of young people, saying:
"We are proud to be able to offer these creative opportunities to young people who may have previously thought that the arts and creativity were not for them. Many of these individuals are facing challenges such as economic disadvantage, disability, and rural isolation. Through our partnerships with youth workers, community workers, project workers, and tutors, we are able to support and encourage them in their creative journeys. It is a privilege to be a part of their world and to witness the incredible potential that they have to offer."
Young people played a very prominent role in this launch event with speakers from the 'Count me in' group in Mayo, Diversity Sligo and Mohill Youthreach UBU project. The Tusla Advisory Youth Group who acted as an advisory group to the development of LCYP strategy were also in attendance on the day.
The launch was attended by young people, youth workers, arts practitioners, representatives from Mayo, Sligo, and Leitrim County Council, MSLETB colleagues and other collaborators.
Guests on the day were greeted on entry to some wonderful traditional tunes performed by Leitrim Music Generation!