Evening Classes
MSLETB offers a broad, diverse programme of part-time evening courses encompassing both hobby-style courses as well as fully accredited courses. If you are considering a possible career change or looking to progress in your current employment, and full-time day courses do not suit your situation, why not browse through the many QQI, ATI, ITEC accredited modules and courses on offer? You will be given personal advice to help you choose an option that best suits your needs. If on the other hand you simply want to learn a new skill, language, or craft in a relaxed, social and non-exam-based atmosphere, we offer an exclusive range of options, with something to cater to everyone.
Evening Course Prospectus 2022
Mayo Sligo and Leitrim Education and Training Board (MSLETB) have launched an Evening course prospectus for courses running from January. This course prospectus outlines a suite of part-time accredited evening courses that are delivered in a variety of formats to include face-to-face, blended and online learning. Our diverse offering caters to a wide variety of learner groups including the school leaver, the lifelong learner, and an employee looking to upskill or re-engage with education after a long period.
For more information, click the brochure below or you can find the prospectus via the following link: MSLETB Evening Course Prospectus January 2023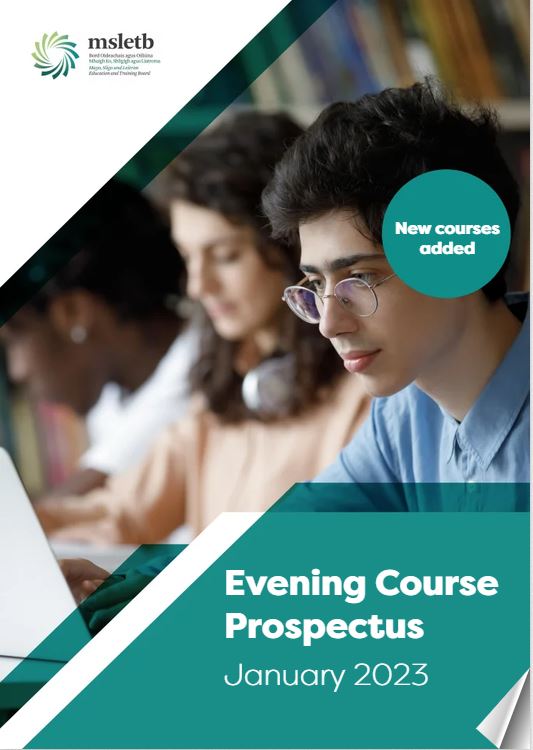 List of MSLETB Schools currently offering Night Classes:
SCHOOL
NIGHT CLASS COORDINATOR
CONTACT DETAILS
Drumshanbo Vocational School, Drumshanbo, Co Leitrim
Aidan McKeon
(071) 9686017 or (086) 3260932 or

[email protected]

Coola Post Primary, Riverstown, Co Sligo
Breege Tighe
0719165365 or

[email protected]

Coláiste Iascaigh, Easkey, Co Sligo
Maeve Kelly
09649021 or

[email protected]

North Connaught College, Tubercurry, Co Sligo
Patricia O'Reilly TBC
(071) 9185035 or

[email protected]

Carrigallen Vocational School, Carrigallen, Co Leitrim
Declan Conboy
049-4339640 or

[email protected]

Davitt College, Castlebar, Co Mayo
Aidan Brogan
087 2245674 or

[email protected]

Westport College of Further Education, Westport, Co Mayo
Jennifer Farrell (Secretary),
Mary Greally (Director of Adult Education)
Telephone 098 25241 and option 2 to speak to the nightclass department
or

[email protected]

[email protected]

[email protected]