As part of their Fine Art Photography course with Teacher and professional Printmaker, Sinead Wall, the Art Level 6 students had the opportunity to create images using a traditional nineteenth century cyanotype process.  This process was one of the earliest chemical processes used in the development of photography during the 1840's.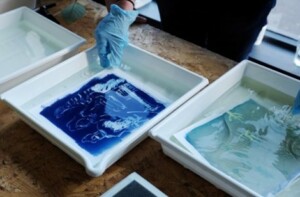 The students prepared paper by coating it with the light sensitive chemicals in a darkened room.  They created photograms by placing leaves and objects straight onto the paper and brought them outside to expose them in sunlight. The images were then developed in running water.
For the next stage of the project the students printed their own photographic negatives onto acetate.  In some cases the students added drawings to their negatives.  They then placed the negatives onto prepared cyanotype paper and developed the prints with the use of a UV exposure unit.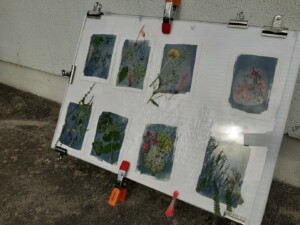 The students enjoyed the experience of hands on photographic printing, a change from the usual digital processing.  The resulting prints were a great success and have a rich Prussian blue colour.