Skills to Compete – Microsoft Cloud Traineeship
Name: Microsoft Cloud Traineeship
Delivery Modes: Full-Time (Blended)
Start Date: November 2022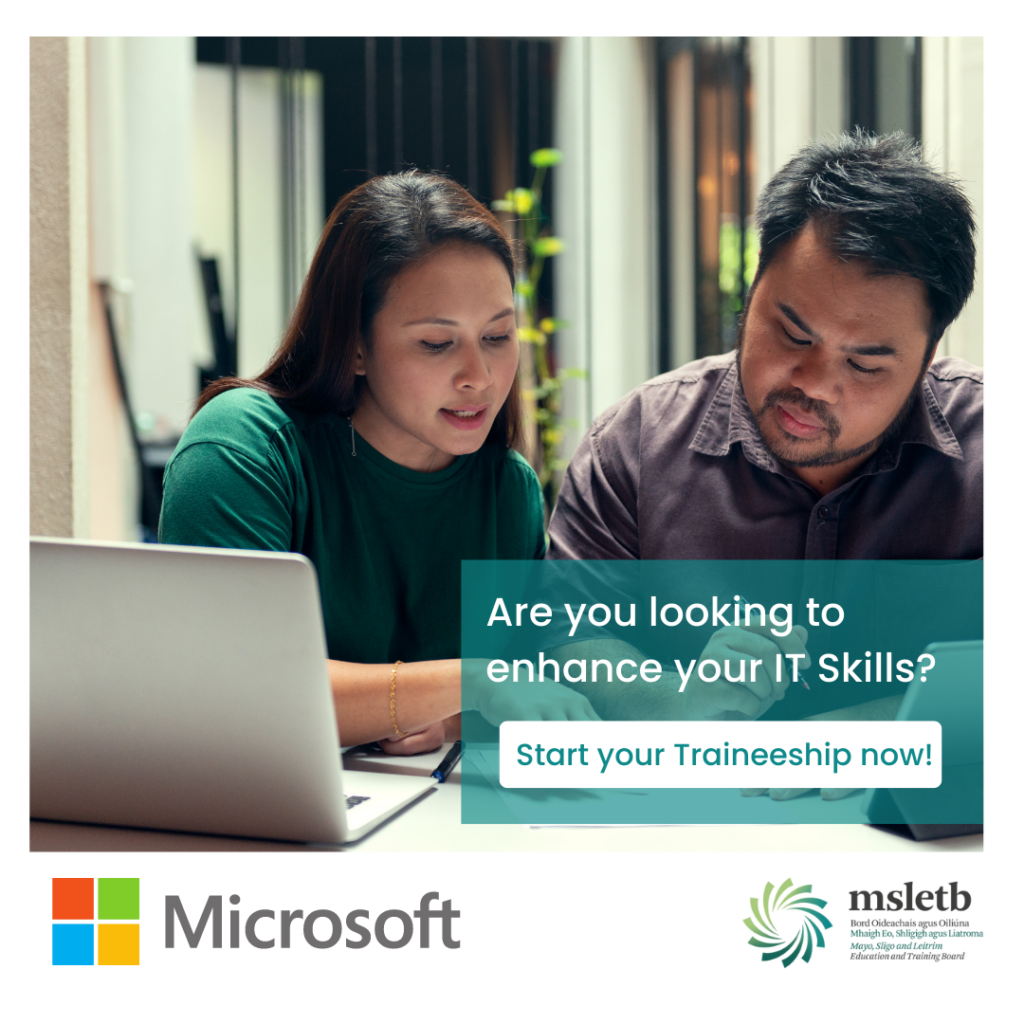 Course Overview
MSLETB, in partnership with Microsoft, has developed a Cloud Traineeship programme to support new career pathways in IT. Cloud technology is all around us in our everyday lives. As intelligent, innovative, and forward-thinking people continue to develop technology, it can help us solve problems in many applications. 
The Microsoft Cloud Traineeship programme offers learners an opportunity to secure both IT knowledge and work experience, creating a platform to build a future career in a new and emerging sector. 
This programme is designed to combine education and on-the-job experience that will develop a new, diverse pipeline of exceptional IT talent while also addressing the technical skills shortage in Ireland. Upon successfully completing the programme, trainees will receive a Level 5 QQI Certificate and the latest cloud computing Microsoft Certifications, including Azure. 
A Traineeship can provide you with an opportunity to develop cutting edge skills and on-the-job knowledge, enhancing your career options and improving your employability.
The trainee will be ideally suited to undertake a cloud support role within a medium to large organisation that have already transitioned to the cloud or are in the process of doing so. For smaller organisations, the trainee will be ideally placed to support and transition the organisation from business processes and IT infrastructure based on the traditional on-premises model to a modern cloud model delivered on the Microsoft Azure cloud.
Entry Requirements
The candidate will need these general requirements:
Education: Although no previous experience is required, candidates will be expected to demonstrate the levels of knowledge, skill, and competence associated with the NFQ Level 4. It is expected that the learner will be participating in this programme through an appropriate provision, for example, Post-Leaving Certificate (PLC), Community Education, BTEI, VTOS, etc. The learner may be progressing onto this programme from community education, Youthreach, second-level education, or other formal or informal learning.
Am I eligible?
Traineeships are free to access and open to potential participants of all ages and backgrounds including school levers, older learners, and those in, or seeking employment. A range of guidance services are available for those interested in participating in a Traineeship programme:
Second-level or higher education students should contact MSLETB
Adult learners can find details of their local Adult Education Guidance Service through MSLETB.
Jobseekers will find more information through their local Intreo Office or Local Employment Service.
For those currently unemployed, training allowance or income support may be available. In line with the Pathways to Work 2016-2020 strategy, the Comprehensive Framework for Employment of People with Disabilities and the Action Plan on Jobless Households, eligibility to participate in a Traineeship programme includes people who are in receipt of any of the following payments:
Jobseekers Benefit

Jobseekers Payment

One Parent Family payment

Jobseeker's Transitional Payment (JST)

Disability Allowance
Eligible persons must also be residents in the state and hold a valid PPSN. Those in receipt of one of the payments above are eligible to retain their payment while participating in a traineeship. Prospective participants who fulfil these criteria are referred by Department of Employment Affairs and Social Protection (DEASP) to MSLETB and receive a training allowance for the duration of their training.
You may also be eligible for a training allowance during the duration of the programme. Contact MSLETB for more information.
Course Content
Modules you will study over the course of the year:
Work Experience
Communications
Computer Hardware Systems
Maths for Information Technology
Networking Essentials
Operating Systems
Virtualisation Support
ICT Security Policy & Management
MCF 365 Fundamentals (MS-900)
MCF Security, Compliance and Identity Fundamentals (SC-900)
Microsoft Azure Fundamentals (AZ-900)
ITS Networking
Learning Outcomes
Upon successful completion of the programme, learners will receive a Level 5 QQI Major Award in Computer Systems and Networks and the latest Microsoft Certifications, including Azure.
Launch of the Microsoft Cloud Traineeship
Minister Simon Harris for Further and Higher Education, Research, Innovation & Science, TD  joined Mayo, Sligo and Leitrim Education and Training Board (MSLETB) and Microsoft Ireland for the launch of the Microsoft Cloud Traineeship programme.
Student Testimonials
Read what current students and alumni have to say about their experience on the Microsoft Cloud Traineeship.
"From Day 1 we started on the course with a whole group of people involved who were so helpful. It's different from sitting in a classroom with 30 or 40 other students where you're afraid to speak. It's the way the course is delivered with ease that makes you feel comfortable which to me is really important."
"The course itself compared to other courses is very hands-on and practical. It's not just learning theory as you actually get to see how everything works from the ground up. Whatever you learn you don't just learn it and move on, you learn it and bring it away with you."
"What attracted me to the Microsoft Cloud Traineeship was the opportunity to be able to upskill from home. During this course, I have learned to use computers, Microsoft Teams, Zoom, and all the other skills that I did not have prior to the course. It was also great to be able to work from home and meet new people all at the same time!"
Want to find out more about the Microsoft Cloud Traineeship?
For further information about the Skills to Compete Programme please fill out Microsoft Cloud Traineeship Form.