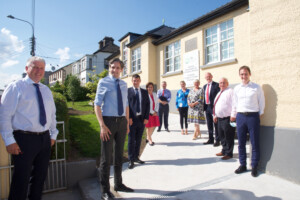 Yesterday, the 19th July, Simon Harris Minister for Further and Higher Education, Research, Innovation and Science visited the Castlebar Campus of the newly formed Mayo College of FET. Minister Harris will meet apprentices, learners from Ballinrobe Youthreach and management and staff of Mayo, Sligo and Leitrim Education and Training Board (MSLETB).
During the visit Minister Harris was be given a tour of the organisation's broad range of facilities in the county town. Including the Castlebar campus buildings at Newtown, and the state-of-the-art-MSLETB Further Education and Training Centre at Lucan Street, two facilities which provide a wide and varied range of courses for all needs and requirements.
Minister Harris was welcomed by Mr. Tom Grady, Chief Executive and the Director of Further Education and Training, Mr. Peter Egan. During the visit, MSLETB outlined plans for the development of Mayo College of FET and plans to upgrade facilities in the Castlebar Campus. Tom Grady, CE of MSLETB, says, "It is a privilege to showcase to Minister Harris the solid foundations in further education we have built here in Mayo and to speak to him about our pioneering future proposals, particularly the development of the Castlebar Campus of the new Mayo College of FET".
During the visit, the future development and expansion of apprenticeships was discussed. MSLETB is also a leading provider of apprenticeships in the region and MSLETB outlined its plans for further expansion and development of apprenticeships in MSLETB and beyond. MSLETB administers and manages the tri-party relationships for all apprentice employers, apprenticeship providers and apprentices in the Mayo, Sligo and Leitrim areas.
Peter Egan, the Director of FET, says, "Currently MSLETB is a leading provider nationally in the development and expansion of Apprenticeships. MSLETB have developed and coordinate two new apprenticeships in Craft Butchery and Sales. We also deliver a whole range of craft apprenticeships in our state-of-the-art Training Centres in Ballina and in Sligo".
In addition to apprenticeships, MSLETB delivers a range of services and full and part-time courses across the region. Every year approximately 30,000 citizens in Mayo, Sligo and Leitrim avail of the services of MSLETB.
MSLETB also provides a comprehensive Adult Guidance Service. This service is free, impartial and confidential and assists people to make informed educational, career and life choices.
If you are interested in further education or training or any of the services of MSLETB, please contact MSLETB on 1800 100100 or check our website www.msletb.ie.