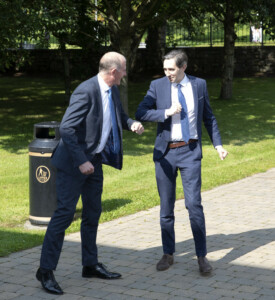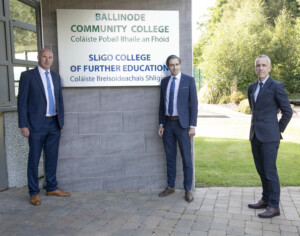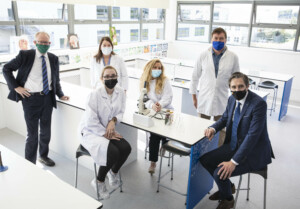 Minister for Further and Higher Education, Simon Harris visited Sligo CFE on Wednesday 25th August, as part of a tour of Further & Higher Education centres in the region. The Minister met with students and staff, to discuss programmes and initiatives that the college is involved with, and to look at the future development of the college.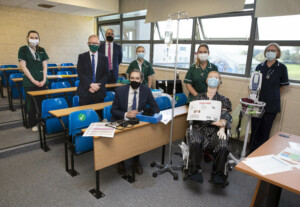 Minister Harris met with a number of students who had recently completed work experience for their course across a range of European countries, such as France, Germany and Spain.  Through their experience on the Erasmus + Programme, these students spent a number of weeks undertaking placement in industry abroad related to their field of study.
The Minister talked with students who had completed Nursing and Healthcare programmes and discussed with them the range of progression opportunities they were now enjoying. He similarly met with Food Science students who had progressed to St. Angela's and IT Sligo to study Teaching and Nutrition as a result of the transfer programmes that Sligo CFE enjoys with both colleges. The Minister noted that the students he met were excellent advocates for the role of Further Education in providing learners with opportunities to progress and further their education, while also gaining practical skills and experiencing independent learning.
The Minister was joined on his visit by Deputy Frank Feighan and Deputy Marc McSharry, as well as CE Mayo, Sligo & Leitrim ETB, and Peter Egan, Director of Further Education and Training, MSL ETB. The Minister also met with members of the teaching staff and Board of Management of the college, as well as students across a range of programmes including Childcare, Hairdressing, Make Up Artistry and Creative Digital Media.
David McGuinness, Principal of Sligo College of Further Education, was delighted to see the Minister so affirming in his praise of the work undertaken by staff and students. He noted that "The Minister showed a really keen understanding of the role of Further Education in facilitating the educational journey of so many of our learners. We were delighted to have the opportunity to welcome him, and to hear him advocate our work so strongly".