– Haulage companies set to save up to €4,000 per fleet vehicle annually by participating in programme –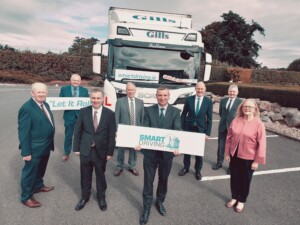 The Minister of State for Skills and Further Education, Niall Collins TD, formally launched a new innovative Eco Driving course for the haulage sector in Ireland today. (16th September 2021). The three-day SMART Driving programme, targeted at existing professional HGVs drivers, will help participants to develop behaviours and techniques that will improve fuel efficiency and road safety, reduce emissions, and will create cost savings for businesses & employers in the haulage sector.
According research conducted during programme development; haulage companies who participate in the course are set to save up to €4,000 annually in fuel and maintenance costs per fleet vehicle.
Speaking at the launch, Minister Collins said: "The Programme for Government 2020 outlines our commitment to reduce Ireland's greenhouse gas emissions by 51% over this decade and to achieving climate neutrality by 2050. I am delighted to be launching this programme today as it provides a great example of how industry and Government can work collaboratively as we all work towards the achievement of these goals. This programme will not only assist haulage companies to reduce their carbon emissions, it will also provide upskilling opportunities for those working in the sector which has seen huge technological advances in recent years".
The programme has been developed by Mayo, Sligo and Leitrim Education and Training Board (MSLETB) in collaboration with Waterford and Wexford Education and Training Board (WWETB) in partnership with the Irish Road Haulage Association (IRHA). The programme is funded by SOLAS through the "Skills to Advance" policy initiative under a competitive "Innovation through Collaboration" call for proposals.
Designed to meet specific upskilling needs in the HGV sector, the programme aims to support employers in the haulage sector which is experiencing significant change in work practices due to emerging opportunities in new technologies such as advanced tachographics, AI predictive systems for fuel efficiency, and digitisation in everyday driver activity. Coupled with this, the sector is also experiencing increasing economic vulnerabilities and significant challenges due to environmental pressures, Brexit, Covid-19, and changing markets.
The programme is designed to help mitigate against these challenges by upskilling professional drivers in eco-driving behaviour (creating fuel savings & lowering emissions), digital technology (in-cab and hand-held devices, for example), safe driving and driver health and well-being.
Commenting today, Sean Burke, Area Training Manager at Mayo, Sligo, and Leitrim ETB, said: "This programme is designed to meet specific upskilling needs in the HGV sector in Ireland. It will be delivered to around 300 professional HGV drivers over a 2-year period. It will then be 'mainstreamed' across the entire Further Education and Training sector making it more widely available to existing professional HGV drivers, including HGV drivers returning to the sector and to participants on HGV traineeships. Further iterations are planned for professional and commercial drivers in other sectors".
"The SMART Driving initiative is designed with drivers in mind – giving them the skills they need to reduce stress, learn new technologies, and boost their confidence, which will in turn increase their employability. For businesses, the benefits are manifold – with better skilled drivers, their operational costs and fuel emissions will decrease, which will in turn boost their profit margins, and the resale value of their fleet.  Taking place over three days makes it accessible for drivers looking to upskill.
Tom Grady Chief Executive MSLETB observed that this QQI accredited programme benefits employers & employees and "as well as that – the course supports the Government's Future Jobs Ireland Programme 2020 objectives by helping the haulage industry to transition to a low carbon economy, upskilling drivers in driving technology, as well as improving SME and workforce productivity. We're delighted to be able to launch this initiative in partnership with WWETB and in collaboration with the Irish Road Haulage Association (IRHA)."
Also speaking at the launch was Mr Paul Jackman, Vice President of the IRHA, said: "The nature of work for HGV drivers, with the equipment being utilised, digitalisation, market demands, regulatory compliance and changing work practises, has evolved in the road haulage sector almost beyond recognition in the last fifteen to twenty years.
"These changes coupled with the high average age in the sector very much suggests the need for an upskilling course for this current crop of drivers. Upskilling opportunities will help drivers deal with this new world while best availing of new technologies and practises. This will help drivers get a better understanding of their modern work environment and equipment thus helping drivers to drive and work in a safe and compliant manner, while using less fuel to do so."
Kevin Lewis Chief Executive WWETB in his address noted, "As an upskilling and reskilling opportunity it supports the national skills agenda, particularly in areas such as increased digital capacity & technology skills and in opportunity areas that support the Climate Action Plan. This collaboration builds on the excellent working relationships that already exist between MSLETB, IRHA & WWETB particularly around HGV traineeships and training for professional drivers"
The SMART Driving programme supports the objectives of the SOLAS "Supporting Working Lives and Enterprise" policy and is aligned with objectives in the Governments Future Jobs Ireland Programme 2020.
Mr Andrew Brownlee CEO SOLAS pointed to the significant collaboration between the participating ETBs and the Irish Road Haulage Association. "The Further Education and Training Sector must maintain a high degree of connectivity between employers and employment focused programmes to ensure that the skills delivered remain current and relevant. This programme and the HGV Traineeship are examples of employer engagement in action and we welcome further collaboration and cooperation with the HGV sector to address the many challenges they are facing in the current environment".
For further information on SMART Driving visit: www.smartdriving.ie.