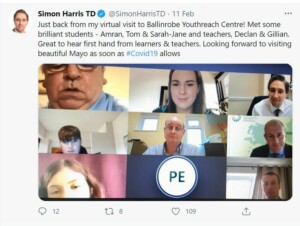 Minister for Further and Higher Education, Simon Harris made a virtual visit to Ballinrobe Youthreach centre on Thursday 11th February 2021.
Minister Harris met with students Amran, Tom and Sarah- Jane and Centre staff Frank Brady, Declan Gaughan and Gillian Costello and Chair of MSLETB John Caulfield, the Chief Executive Tom Grady and Director of Further Education and Training Peter Egan. During this meeting Minister Harris got the opportunity to hear first-hand from the students about their positive learning experiences in Youthreach.
Each told their story about how mainstream education was not for them and how going to Youthreach was the right choice.
Amran Daliamhmad is a refugee from Syria who came to Ireland 4 years ago with no English. He joined Youthreach and has since thrived learning English, meeting other students, and enjoying metal work and maths. He hopes to become a construction worker.
Tom Ward told the Minister he enjoyed coming to Youthreach, attends every day and enjoys woodwork and making things and that he wants to study Business at the local MSLETB PLC centre in Castlebar.
Sarah Jane Geraghty left school after finishing her Junior Cert, got a job, and then joined YR. She has really enjoyed coming to Youthreach and told the minister that' school was not for me; it didn't suit me, here I enjoy learning'. She is interested in Art and hopes to work on her portfolio and do Art in the future.
Two of the students are studying for their L.C.A and when asked about the challenges they face, they said they miss coming into the centre, face to face interaction and that online learning poses difficulties from poor broadband to distractions at home. The predicted grades versus exams were discussed and Sarah Jane felt that they as LCA students have lost ground. She diplomatically pointed out that Students will lose out either way.
Minister Harris acknowledged the three inspirational students and reiterated the fact that one size learning does not fit all and that there are multiple ways to progress to and study in Further Education and Training from part-time and full-time options and Apprenticeships, Post Leaving Certificate courses and Traineeships. He congratulated staff on the fantastic work they do, the impact Youthreach has had on learners' self -worth and confidence and noted that students see the Youthreach Centre as family.
Minister Harris was formally thanked for his virtual visit by the Chair of MSLETB John Caulfield, the Chief Executive Tom Grady and Director of FET Peter Egan. Frank Brady, Coordinator of Youthreach, had the last word and extended his invitation to the minister to visit the centre once the COVID restrictions are lifted. Minister Harris graciously accepted and tweeted looking forward to visiting beautiful Mayo as soon as COVID-19 allows
Youthreach is a response of the Department of Education and Skills and the Government to early school leaving and educational disadvantage in Ireland. It has provided a way in which young people and adults may return to or complete their education in a non-threatening learner-centred environment.
  Youthreach is effective at recruiting learners who do not suit mainstream learning and highlights the strong focus that the programme places on the holistic development of the individual learner. Learners who engaged fully with their programme have positive learning experiences, improved self-esteem and self-worth and enhanced personal and social development. Centres provide a positive atmosphere, and staff put considerable time and effort in getting to know learners individually—their background, their parents, and families. These features of the programme play a key role in the support offered to learners.
MSLETB has five Youthreach Centres- three in Mayo located in Ballinrobe, Ballina and Kiltimagh with one centre in Mohill, Leitrim and a Centre in Sligo.
For more information on Youthreach and any MSLETB course call 1800 100 100 for more information.