A group of 14 students from the Coastal Guiding course of Achill VTOS paid a visit to Wild Nephin Ballycroy National Park. The Coastal Guiding Course, an exciting new development for Achill VTOS, has a focus on guiding, ecology, heritage and culture of Coastal and Maritime regions. The purpose of our visit to the National Park was to learn from the expertise of the guides. And it didn't disappoint, providing a rich learning experience for everyone as well as the chance to enjoy the panoramic views of Achill Island, Ballycroy, the Nephin Beg Mountain Range and Bellacragher Bay.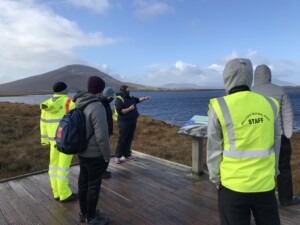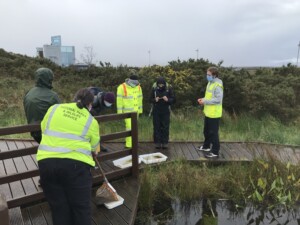 Our group was split into two smaller groups for social distancing reasons and all activities were fully compliant with Covid 19 regulations. Margaret Flaherty, Supervisor Guide and Michael Chambers, Head Guide at the National Park led the first group and we were introduced to the grounds of the park's visitor centre at Ballycroy. This is an easy two kilometre walk in on a Trail known as Tochar Daithi  Bán.  As Micheal explained, the name is associated with the local mythological giant known as Daithi Ban, or Blond David; legend has it that his remains are buried in a cairn on top of Slieve Carr, the highest peak in the Nephin Beg range.
Micheal enthralled us with his story of finding prehistoric Bones dating to around 6000 years ago. It is without doubt one of the most significant finds in this region and it was fascinating to hear the account first-hand from Michael.
The second part of our day took us to Claggan Mountain Coastal Trail where Margaret explained the coastal ecology present on this ancient shoreline where Atlantic blanket bog meets the Atlantic Ocean. Visitors can expect to find rarities of bog flora and coastal species such as otters here.
The National Park is not just a daytime experience, Margaret explained, it is also Ireland's first International Dark Sky Park. At night visitors can enjoy the celestial beauties of a truly dark sky overhead. As they say in Ballycroy "half the park is after dark."
So our day was filled with a very enjoyable and educational visit and our students learnt much from the experience and professionalism of the National Park guides. Here is just one of the quotes we received from one of our students, Graham Sweeney, about the day:
"As we stood on the shores Bellacragher Bay (Béal an Chreachaire), our tour guide Michael Chambers explained that this name comes from 'Bay of Plunderer' which goes back to pirate times and Grainne Mhaol. They would set boats up to be wrecked on the bay.
"We saw signs of erosion, the result of unfathomable time in the harsh west of Ireland conditions. We observed the remains of an old pine tree that once stood proud over the bay, now just a reminder of our once tree covered country. The root system has survived and now breeds life to a host of sea weeds. Many of which are known to be rich in nutrients, vitamins and even cures."